Remarkable story made by Taqdees-e-Adab International
By Shah A Siddiqui
Poetry is that kind of literature that effortlessly descends to the core of the heart and can cause tremendous changes in the human psyche. Poetry is at its best when recited live in front of an audience.
This is why Jashn-e-Noor Amrohvi Houston was chosen to be held annually in Houston, USA. "Aristotle defines poetry as the form of mimesis which uses rhythm, language and harmony. He says that peace distinguishes poetry from other linguistic forms.
The high esteem, respect, honor and fame that Dr. Noor Amrohvi has received during his professional artistic career is rare in the history of Urdu poetry. Not to mention that he won it in a very short time thanks to his remarkable poetic works of art.
The Jashn-e-Noor Amrohvi was organized and celebrated in the Colossal Hall of the Holiday Inn. Large numbers of poetry lovers gathered for the celebrations in Houston, Texas, which is the fourth largest city in the United States.
It was organized by Taqdis eAdab International, a well-known literary and cultural organization, in a beautiful and spacious hall of Holiday Inn. Dr. Pirzada Qasim, Vice Chancellor of Karachi University, renowned scholar and poet, specially attended this celebration and came from Pakistan.
A famous Pakistani poet, Abbas Tabish, has also become a part of this celebration and historic event of this international Mushira. The poetic effects on its readers are different but immense. Borders cannot bind this art form.
The Jashn-e-Noor Amrohvi is a perfect example of the cross-cultural mushira of the time. GhanShyam Gupta from India, Dr. Sabiha Saba from New York, Humaira Rahman from New York, Zarin Yasin from New Jersy, Khalid Irfan from New York, Fatima Zohra Jabeen from Canada, Abid Rasheed from Chicago, Pramod Rajput from Dallas, Dr. Shamsa Qureshi of Dallas delivered their speech and the poetry gave the audience an ocean of wisdom.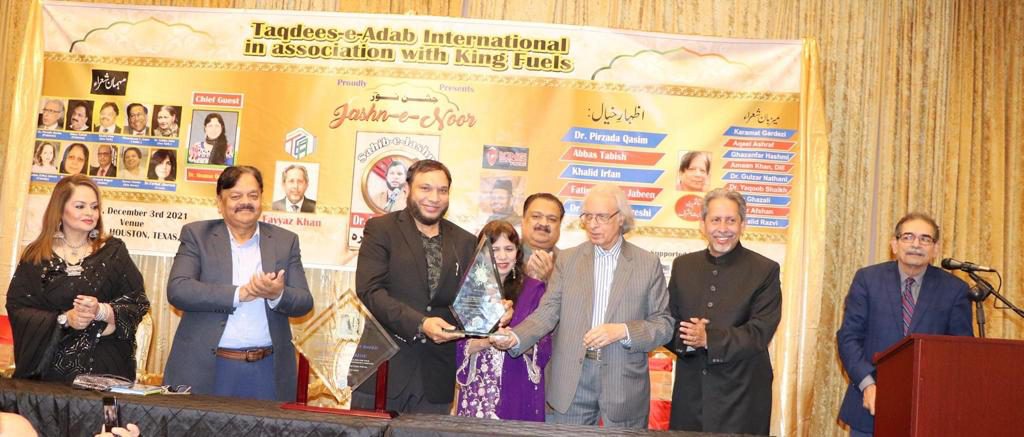 While the local guest poets were also there to represent the art of poetry, big names like Ghazanfar Hashmi, Shah Ghazali, Aqeel Ashraf, Aman Khan Dil, Dr. Gulzar Nathani, Khalid Rizvi, NilufarAfshanAashi, also presented their poetry. .
Fayyaz Khan, the founder of Taqdees-e-Adab International, made this celebration a historic and memorable event, which echoed and resonated around the world. Houston saw its very first event, which lasted until three in the morning, the place was packed and there was no place for sit-ins. The sumptuous dinner, lighting, decoration and good humor from the audience presented this event as a wedding party and not as a literary function which showed the affection of Dr Noor Amrohvi and the brotherly friendship, love and l Houstonian's affiliation with Fayyaz Khan was clearly visible, which was admired by the audience.
The audience said the celebration of Jashn-e-Noor Amrohvi was nothing short of remarkable. The aesthetic atmosphere shows the absolute desire to elevate Urdu poetry to the whole world. The program consisted of two parts.
Speeches, essay and poetry were presented on the poetic personality of Dr Noor Amrohvi in ​​the first part. Dr Pirzada Qasim Sahib said: "Dr NoorAmrohvi is writing the history of his time. Dr Noor Amrohvi deserves this respect and celebration which has been fully fulfilled by the Taqdees e Adab. The tribute paid by Taqdeese-Adab International was a fine example of respect and honor.
The famous poet Abbas Tabish Sahib said that "Amroha's beginning begins with John Elia and ends with Dr NoorAmrohvi". did a great literary and social work. Very few people rarely reach the position he has acquired in the whole of the literary world.
Dr Amrohvi's alleged sister, Dr Shamsa Qureshi, said: "I am proud of my brother, Dr Noor Amrohvi, who has achieved high status in a short period of time. Fiction writer and poet Fatima Zahra Jabeen from Canada said Dr Amrohvi had gained international fame in a very short period of time. She appreciated him as the organizer of this unique and immeasurable platform and praised him as a successful businessman and a beautiful person full of compassion and human values. I have known Dr Noor for a very long time and always congratulate him as my younger brother and congratulate him on this wonderful celebration he deserves. This part of the event was conducted by Shah Ahmad Ghazali while the comparison of Mushaira was well done by Fayyaz Khan, the head of Taqdees e Adab International.
At the end of the program the benefactor and guardian of UrduDr. Shamsa Qureshi, received Lifetime Achievement Award from Dr Pirzada Qasim. The best poet of the year was named Dr Noor Amrohvi, the man of the celebration. It should be mentioned that Dr Noor Amrohvi is the only poet in North America, India and Pakistan to have been awarded and endowed with diamonds, gems and gold by his fans. A die-hard fan of Dr Amrohvi, who is a jeweler, offered diamond karate in a mushira to all attendees at the "DuaayenKaamAati Hain" book unveiling in Dallas and his alleged sister, Dr Shamsa Qureshi had it also offered. a gold pen in the same event.
The second half of the program was the award ceremony for people who have achieved great achievements in literary fields. The management of TaqdeesAdabInternational presented the Taqdees e AdabAward to Fayyaz Khan for his outstanding literary service and Raja Zahid Khanzada, editor-in-chief of Jago Times, was awarded for the best journalism.
This fascinating poetic celebration of literary history ended with an auditorium filled with audiences resounding with applause. It was indeed an unforgettable event for lovers of literature and poetry in Houston. To underline the literary services of Dr Noor Amrohvi, a colorful magazine has also been published and distributed to the public. During the last hour of the night, Fayyaz Khan thanked and appreciated all the sponsors and supporters, including Fuel King's ZakiNiazi, FerozMosani, Salman Razaqi, Ashraf Inayat, and with this appreciation the beautiful historic literary event in honor Dr. Noor Amrohvi ended up being remembered for a long time to come.
Source link